French language program for babies and children – Try it for free!
If you are an early learning family and were looking for French language resource for your baby or toddler, — look no further!
Yesterday BrillKids released French Early Language Learning curriculum, based on their groundbreaking system Little Reader.
We have used Little Reader Chinese with both of our children starting from 8 months; now at 2 and 4 years they recognize simplified mandarin characters, say simple phrases and understand quite a bit of Mandarin. All that from Little Reader Mandarin lessons and supplementing with short youtube videos and action songs in Chinese. Neither nor me my husband speaks Mandarin enough to teach it, so the program was an excellent idea and it proved to be very effective.
According to Glenn Doman young child is capable to learn as many languages as he is given an opportunity to. And we are glad to give our children the linguistic ear so to speak, making them acquainted  with languages they might find helpful or would be interested in learning more deeply as they grow.
So release of Little Reader French came as a very welcomed urprise. You can check the program yourself for free with 2 week full-fledged trial. Here is how:
To download the trial curriculum for French, you just have to follow these steps:
1. Sign in to www.brillkids.com or any BrillKids website


2. On the upper right hand corner of the page, you will see an 'ACCOUNT' link. Use your mouse to hover over it, and click on the 'PURCHASES' item in the dropdown menu.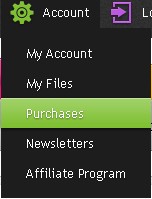 3. To get any Little Reader content (or even your paid curricula if you have any), click on [2] Curriculum & License Keys.

4. Scroll down to find the link to download the French trial.



And of course, if afterwards you would decide to purchase it, you can use our 10% discount code, which is good for any of the BrillKids products and combinable with many other promotions — BKAFF13608